Nach Planung und Verlauf der Reise im ersten Teil des Rückblicks sowie Natur und Kultur im zweiten Teil wollen wir in diesem letzen Teil auf reisespezifische und technische Aspekte eingehen.
Wohnmobil nach Übersee
Die Verschiffung unseres Womo hat SeaBridge organisiert. Die Firma haben wir als professionell erlebt, von der ersten online-Anfrage ein Jahr vor der Reise bis zur Freigabe zum Abholen des zurück transportierten Fahrzeugs aus dem Hamburger Hafen. Die Kommunikation mit ihr war jederzeit gut, schnell und zuverlässig. Viele detaillierte Informationen zu Inhalt des Wohnmobils, Abgabe im Hafen, Sicherheit auf dem Schiff, Abholung im Zielhafen etc. haben sehr geholfen, uns bei dem Abenteuer der Verschiffung des Campers eine gewisse Sicherheit zu geben. Das ist nicht selbstverständlich, wie unsere Recherche zu Alternativen gezeigt hat.
Da wir in Hamburg wohnen, war für uns der Hamburger Hafen als Start- und End-Hafen ideal. Durchgeführt wurden die Transporte mit RoRo-Schiffen der Reederei ACL. In Halifax konnten wir mit einem Tag Verspätung die Frachtpapiere für unser Wohnmobil bei der Spedition abholen. Beim Zoll am anderen Ende der Stadt mussten wir auf die Unterboden-Inspektion wegen Maul- und Klauenseuche warten. Die Abholung aus dem Hafenterminal verlief dann zügig. Dabei haben wir gern gesehen, dass an der Frontscheibe ein von außen deutlich lesbarer Hinweis auf Videoüberwachung im Schiff angebracht war.
Versicherungen
Empfohlen wurde eine Transportversicherung, die für Schäden aufkommt, die im Hafen oder auf dem Schiff entstehen könnten. Versicherungsmakler Gerd Augustin in Hamburg hat uns über einen Assekuradeur das Wohnmobil für beide Transporte zu weniger als einem Drittel dessen versichert, was es bei Vermittlung durch SeaBridge gekostet hätte.
Die europäischen Kfz-Versicherungen gelten in Amerika nicht. Daher war eine amerikanische Fahrzeugversicherung erforderlich, deren Police bei evtl. Polizeikontrollen hätte präsentiert werden müssen. Aus intensiver Internet-Recherche in Reise-Foren und -Blogs etc. hatten wir Hinweise auf Alternativen zu der von SeaBridge vermittelten Versicherung. Die erwiesen sich alle als inzwischen obsolet. Wir waren letztlich froh über das Angebot von SeaBridge, obwohl es für ein halbes Jahr mehr gekostet hat, als einer der beiden Schiffstransporte. Das Fahrzeug war während der Reise in Deutschland angemeldet, daher bestand hier Versicherungspflicht. Eine Beitragserstattung hat unsere deutsche Kfz-Versicherung daher verweigert.
Auch unsere deutschen Krankenversicherungen zahlen nicht in Übersee. Für die Reisekrankenversicherung hatten wir Angebote, die überwiegend mehrere tausend Euro für sechs Monate kosten sollten. Die HUK Coburg hat uns zu 1,30 € pro Tag je Person versichert bzw. zu 1,20 € für Mitglieder der Barmer Ersatzkasse.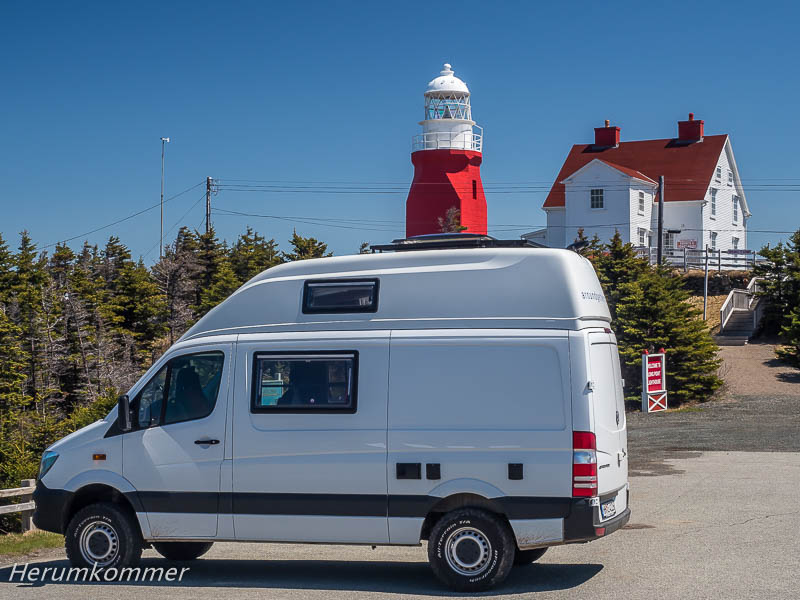 Energieversorgung
Dankbar haben wir das Angebot von SeaBridge für einen Transformator angenommen, der die amerikanischen 115V auf 230V für unser Womo transformiert hat. Wir haben ihn nur sechsmal benutzt, aber ohne ihn hätten wir Probleme gehabt. Ein weiterer dankenswerter Service von SeaBridge ist ein Adapter aus Messing zum Anschluss amerikanischer Gasflaschen an deutsche Druckregler. Der Adapter wird in die Öffnung der Gasfasche geschraubt. Von Hand geht das allerdings nicht vollständig, er muss beim Einschrauben einen Widerstand überwinden. Dafür ist ein Werkzeug erforderlich, z.B. der passende Schraubenschlüssel, Kombizangen sind üblicherweise zu klein.
Wir haben eine Wasserpumpenzange benutzt, die auch beim Festschrauben des Gardena Schlauch-Steckverbinders gute Dienste geleistet hat. Für das Gardena-System, das wir an unserem Frischwasserschlauch benutzen, gibt es in Kanada in Baumärkten kompatible Komponenten zu kaufen. Wasserhähne mit Außengewinde sind in Kanada nach unserer Erfahrung ausschließlich 1/2″ (1/2 Zoll). Andere Steckadapter waren nicht erforderlich.
Gas benötigen wir in unserem Camper "nur" zum Kochen, die Heizung läuft mit Diesel, der Kühlschrank elektrisch. Daher nutzen wir in Europa kein Propangas. Wir haben einen keinen Gasflaschenkasten, in dem nur eine 2,75 Kg Butangasflasche vom Typ R 907 der Firma CampingGaz (blaue Gasflasche) Platz hat. Zur Belüftung steht sie dort auf vier kleinen Füßen. In Amerika gibt es diese (Tausch-)Gasflaschen nicht.
Als Ersatz haben wir in Kanada eine 2,5 l Propangasflasche gekauft: 5 lbs Vapor Cylinder (im allgemeinen Sprachgebrauch "5-pounder"), offizielle Bezeichnung: 5# DOT Vertical ACME/OPD Cylinder. Sie hat Lüftungsöffnungen zwischen Behälter und Fuß, daher sind im Gegensatz zur blauen Flasche die Füße im Gasflaschenkasten entbehrlich. Glücklicherweise hatte CS-Reisemobile eine solche Gasflasche. Daher konnten sie rechtzeitig vor der Reise die Füße so modifizierten, dass sowohl die amerikanische als auch die blaue Flasche passt.
Propan ist in Kanada ein wichtiger Energieträger. Es ist daher fast überall (sehr preiswert) verfügbar, u.A. an vielen Tankstellen. Allerdings haben viele Verkaufsstellen nur Tausch-Gasflaschen. Außerdem gibt es Unterschiede in den diversen Provinzen. Die im technischen Supermarkt Canadian Tire in Bayer's Lake bei Halifax gekaufte und gefüllte Flasche konnten wir in Neufundland bei Canadian Tire nicht auffüllen lassen.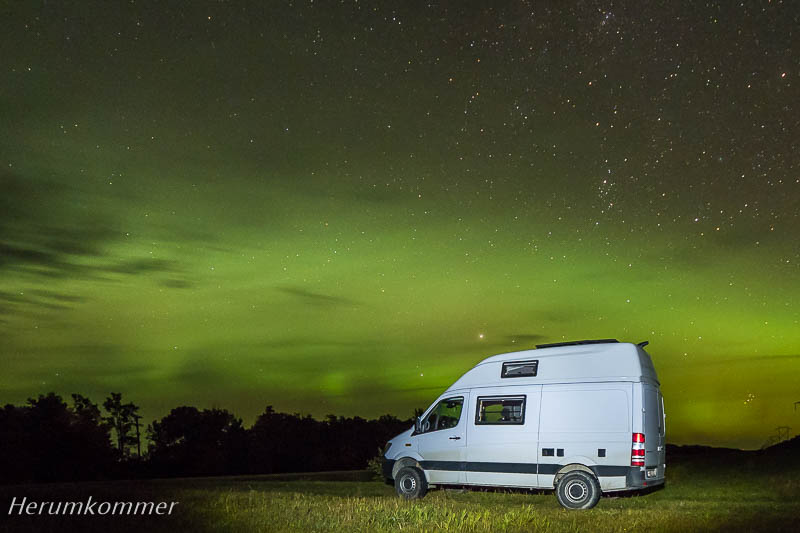 Kraftstoff
Das Tankstellennetz in Kanada ist sehr gut. Allerdings führen viele Tankstellen keinen Diesel. In dünn besiedelten und abgelegenen Gegenden gibt es nur wenige Tankstellen, die Preise sind dort deutlich höher. Viele Tankstellen sind "unbemannt", funktionieren ausschließlich mit Kreditkarten.
In einigen Provinzen war Diesel (zum Teil erheblich) billiger als Benzin. Generell sahen die Kraftstoffpreise in kanadischen Dollars ähnlich aus wie in Deutschland in Euro. Bei einem Wechselkurs von rund 1,50 CAN$ für 1 € waren die Preise also rund ein Drittel günstiger als Zuhause. Auf unserer Yukon-Reise hat das (nagelneue) gemietete Wohnmobil 25 l Superbenzin pro 100 km verbraucht, unser eigenes Womo auf dieser Reise rund 11,3 l Diesel. Die Differenz der Kraftstoffkosten zwischen gemietetem und eigenem Camper hat fast die Transportkosten über den Atlantik finanziert.
An einigen Tankstellen gibt es Zapfstellen, die als 'Clear Diesel' und 'Dyed Diesel' deklariert sind, manchmal ist nur die eine oder die andere Sorte gekennzeichnet. Daher hat es einige Zeit gedauert, bis wir verstanden haben, dass es sich um ungefärbten und eingefärbten Diesel handelt, letzterer vermutlich subventioniert und nur für autorisierte Nutzer verfügbar.
Die Qualität des Diesels ist nach unserer Erfahrung in Kanada recht unterschiedlich. Aus einem Reiseblog hatten wir den Hinweis, um ein Verrußen des Motors zu verhindern, sei es wichtig, dem Diesel beim Tanken ein Additiv zuzugeben. Das haben wir (unregelmäßig) getan. Tatsächlich wird eine große Auswahl solcher Additive angeboten (auch gegen das Gelieren des Diesels bei Frost). Nachdem wir das Additiv einige Zeit vernachlässigt hatten, qualmte unsere Dieselheizung höchst beunruhigend!
Wasser-Ver- und Entsorgung
In Europa sind Tankstellen eine recht sichere Quelle zum Auffüllen des Frischwassertanks unseres Wohnmobils, in Kanada ging das absolut nicht. Keine kanadische Tankstelle hat außen einen Wasserhahn.
Aber: Die öffentliche Wasserversorgung erfolgt in vielen Orten nicht über Rohrleitungsnetze. Insbesondere für entlegene Häuser bzw. Wohngebiete und wohl auch in Regionen mit Permafrostböden wird Frischwasser in Tankwagen geliefert oder in Tanks selbst geholt. Dafür gibt es örtliche Wasser-Tankstationen. Viele davon haben außen einen normalen Wasserhahn. Vermutlich ist die Lagerung von Frischwasser in Tanks der Grund, dass dem Trinkwasser in Kanada so viel Chlorchemie zugesetzt wird, wie wir es kaum irgendwo sonst erlebt haben.
Wasserversorgung sowie Grau- und Schwarzwasser-Entsorgung für Camper ist selbstverständlich auch auf Campingplätzen möglich. Wenn man dort nicht übernachtet, wird auf vielen dieser Plätze für das Entsorgungen eine Gebühr erhoben. Wasser haben wir mehrmals kostenlos bekommen.
Es gibt auch öffentliche Entsorgungsstellen, meistens mit Frischwasserversorgung. Sie heißen 'Sani Dump' bzw. 'RV Sani Dump', manchmal auch 'Dumping Station', französisch 'Vidange'. Aber Achtung: Gelegentlich wurden wir zur Müllkippe geschickt ('Dump' bzw. 'Dump Station'). Ver- und Entsorgungsstellen haben wir bei Touristen-Informationen gefunden, an oder in National-, Provinz-, Regional- und örtlichen Parks, gelegentlich auf Tankstellen, in einzelnen Fällen bei Kläranlagen oder Wasserwerken.
Für die meisten Campingplätze, Parks und Info-Stationen gilt: Von September oder Oktober bis Mai sind sie geschlossen. Dann sind auch deren Ver- und Entsorgungsstationen geschlossen, Wasserleitungen abgesperrt oder unerreichbar. Im Herbst wurde es für uns immer schwieriger, Frischwasser zu bekommen. Einmal haben wir bei einem Wohnmobil-Händler gezapft, einmal hat uns eine Filiale von Canadian Tire "gerettet", ein paarmal war in Parks im "Winterschlaf" noch nicht überall das Wasser abgesperrt.
Camping
Camping ist in Kanada sehr beliebt, in Tourismusbroschüren wird es als eine der wichtigsten Freizeitaktivitäten geführt. Wir haben oft gescherzt, in Kanada gebe es so viele Campingplätze wie Einwohner. Das ist selbstverständlich übertrieben. Tatsächlich haben wir aber noch in keinem anderen Land so viele Campingplätze gesehen. Sie sind aber mit ganz wenigen Ausnahmen nur vier bis fünf Monate im Jahr geöffnet.
Wohnmobil-Stellplätze, wie sie in Europa weit verbreitet sind, kostenlos oder mit geringer Gebühr, mit wenig oder keiner Camper-Infrastruktur, haben wir in Kanada nicht gefunden. Auf vielen Rastplätzen an den Highways stehen "No camping" oder "No overnight parking" Schilder. Auf vielen anderen ist das Übernachten nicht verboten, eine Systematik ist nicht erkennbar. Grundsätzlich sind die Plätze von einer zur anderen Provinz sehr verschieden. Auf einigen haben wir übernachtet, gesehen haben wir weit mehr geeignete. Bootseinlassstellen haben sich für uns als Stellplätze sehr bewährt, in dicht besiedelten Gegenden Parkplätze an Grünanlagen und bei Sportplätzen. Mindestens fünfzehnmal haben wir unter bzw. nahe bei Leuchttürmen übernachtet.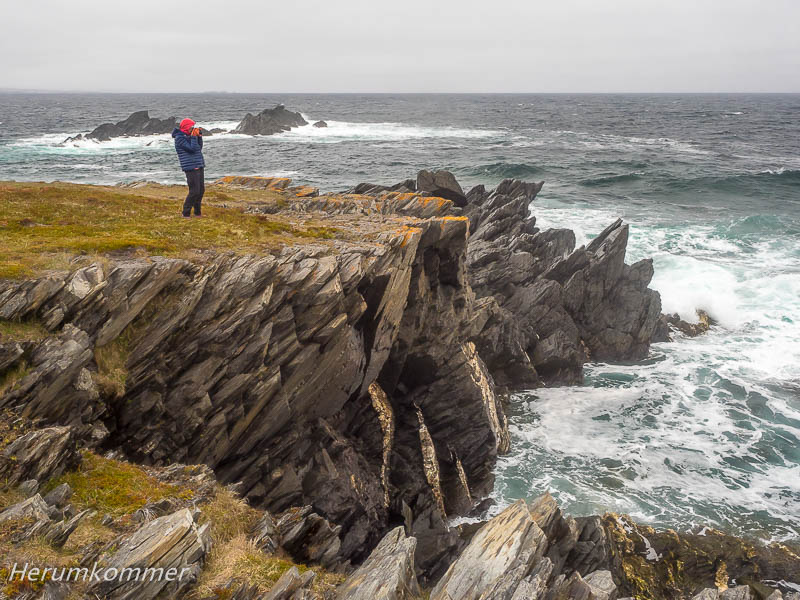 Straßenzustand
Viele Straßen in Kanada sind in schlechtem Zustand. Frostaufbrüche und Schlaglöcher sind auch auf den wichtigsten Fernstraßen weit verbreitet. Auf den vielen Schotterstraßen muss selbstverständlich mit aufgewirbelten Steinen gerechnet werden. Aber asphaltierte Straßen sind häufig schlechter. Unsere neuen All Terrain Reifen haben sich dort bewährt. Und mit wenigen Ausnahmen sind wir die gesamten sechs Monate mit zugeschaltetem Allrad-Antrieb gefahren. Überhaupt war unser Wohnmobil, Typ Corona von CS-Reisemobile, bei dieser Langzeit-Belastung mit fast 37.000 km mal wieder genau richtig.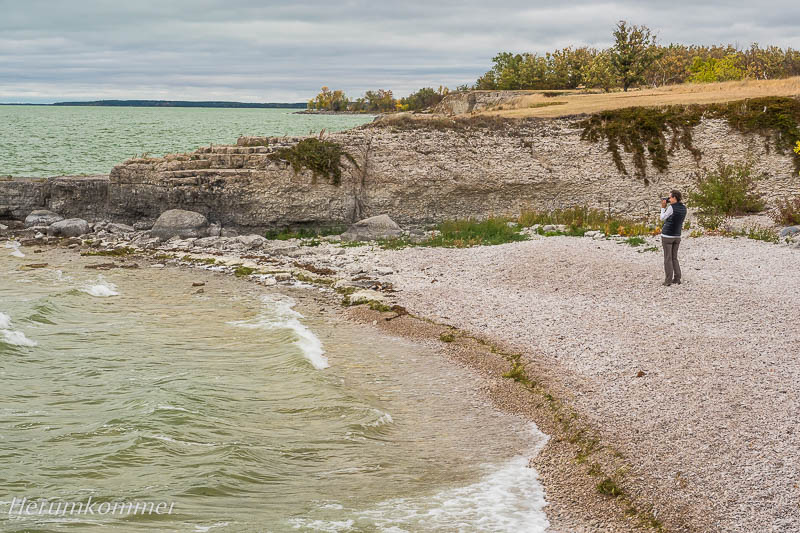 Reiseführer, Karten und Touristen-Informationen
Der Straßenatlas für ganz Nordamerika, den wir in einem Fachgeschäft in Hamburg gesehen haben, war uns zu dick. So hatten wir für die Planung und unterwegs nur den kleinen 'Canada road atlas / atlas routier' von MapArt mit rund 100 Seiten im Format Letter (etwas kleiner als DIN A4). Unsere Reiseführer 'Kanada-Osten' und 'Kanada-Westen' von Iwanowski's waren gut. Vermutlich wären die von SeaBridge empfohlenen Führer von Reise Know How besser gewesen, weil sie Campingreisen mehr behandeln. In den einen wie den anderen kommen die Provinzen Manitoba und Saskatchewan gar nicht oder kaum vor.
Ganz wesentlich zum Erfolg unserer Reise haben die vielen Touristen-Informationen in Kanada beigetragen. Sie sind nur selten, insbesondere in British Columbia, mit dem uns vertrauten 'i' gekennzeichnet. Üblich ist ein Fragezeichen: '?'. Häufig leiten Schilder mit dem Zeichen an den Haupteinfallstraßen zur Info. Meistens heißen sie 'Visitor Center'. Sie geben detailliertes örtliches und regionales Infomaterial und Karten heraus, fast ausschließlich kostenlos. Im persönlichen Gespräch werden Fragen beantwortet, Hinweise und wertvolle Informationen gegeben sowie Unterkünfte und Campingplätze reserviert. Besonders gut sortiert, auch mit Material anderer Provinzen, sind die Infos im Flughafen Halifax und an den Hauptreiserouten jeweils an der ersten Ausfahrt nach einer Provinzgrenze. Bewährt hat sich für uns, frühzeitig Material zu sammeln, das erst Monate später gebraucht wurde. Im Herbst waren nämlich die meisten Infos geschlossen und somit kaum noch Material verfügbar.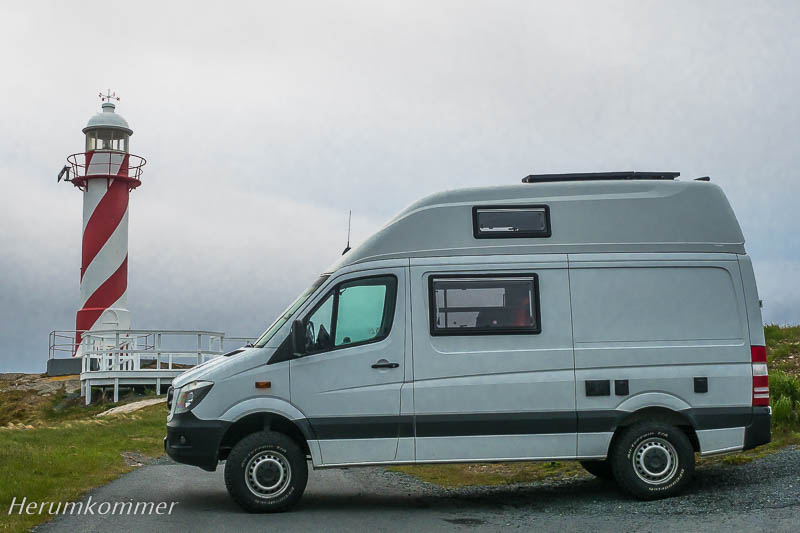 Internet und WLAN / Wi-Fi
Nicht nur zum Bloggen brauchen wir auf unseren Reisen Zugriff auf mobiles Internet. Dafür haben wir einen mobilen WLAN Hotspot (mobile Wi-Fi: MiFi), etwas kleiner als ein Mobiltelefon. In Europa kaufen wir dafür im jeweiligen Reiseland eine prepaid SIM-Karte, die unterwegs aufgeladen werden kann. In Kanada war das nicht möglich. In einem Elektronik-Fachmarkt in Halifax haben die Fachleute einen Netzanbieter herausgefunden, mit dem unser Gerät wider erwarten im ganzen Land funktionieren würde. Der Versuch, uns dort für einen Vertrag anzumelden, scheiterte jedoch. Der sehr teure postpaid-Vertrag ist ohne kanadischen Pass nicht möglich, die noch erheblich teurere prepaid SIM-Karte nicht ohne kanadische Kreditkarte.
Also haben wir statt eigenem Online-Zugang öffentlich zugängliche WLANs genutzt. Das hat besser funktioniert als zunächst angenommen. Zwar mussten wir dafür unseren Tagesablauf ändern und tagsüber per WLAN ins Internet statt abends per MiFi. Aber wir haben dann festgestellt, dass es im ganzen Land erstaunlich viele freie WLANs gibt.
Die besten offenen WLANs hatten wir regelmäßig an den Touristen-Informationen sowie an öffentlichen Bibliotheken (Public Library), an der Bank of Montreal (BMO), Canadian Tire und der Fastfood-Kette A&W, manchmal auch an Supermärkten. Mit dem Smartphone kann man die Übertragungsrate am jeweiligen Standort ermitteln. Wer uns beobachtet hat, wie wir oft auf der Suche nach der stärksten Übertragungsrate auf Supermarkt- oder Bankparkplätzen von einem zum übernächsten Stellplatz und nochmal weiter gefahren sind, hat uns bestimmt für völlig abgedreht gehalten.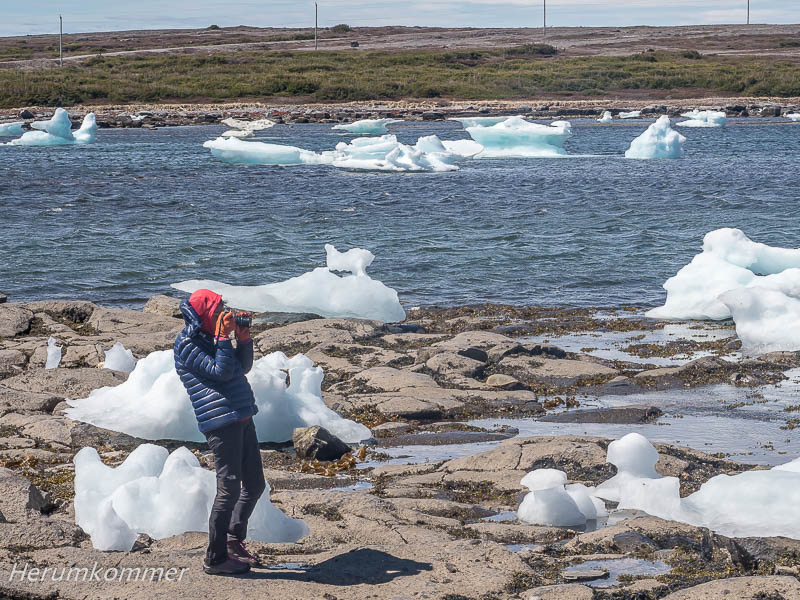 Top-Ziele und -Erlebnisse
Eine persönliche Hitliste der schönsten Ziele dieser Reise fällt nicht leicht, denn sie war nichts weniger als sensationell. Dennoch ragen einige Orte, Regionen und Routen heraus.
In Newfoundland and Labrador:

In Nova Scotia:
In New Brunswick: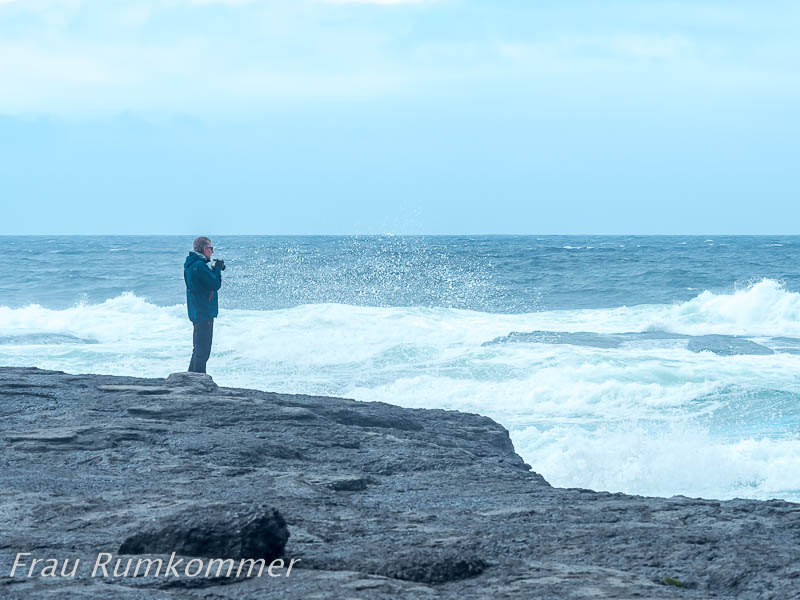 In Prince Edward Island:
In Québec:
In Ontario: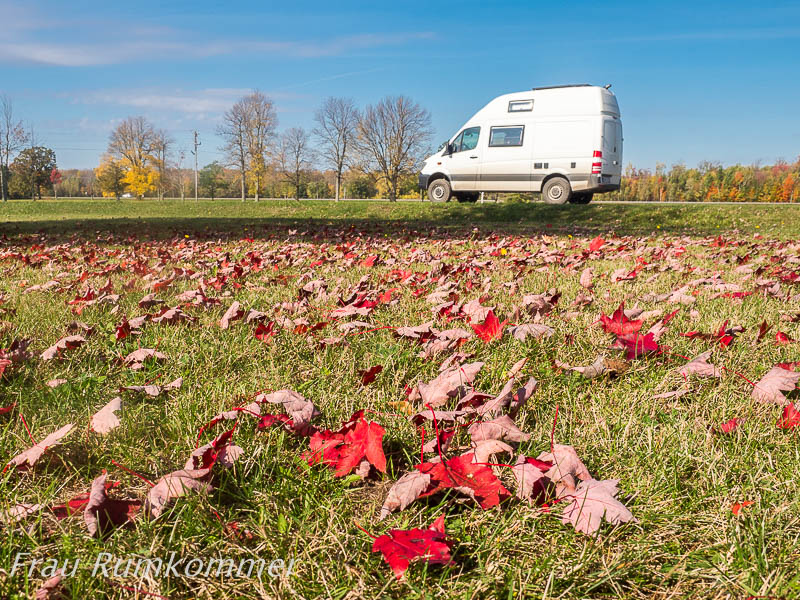 In Manitoba: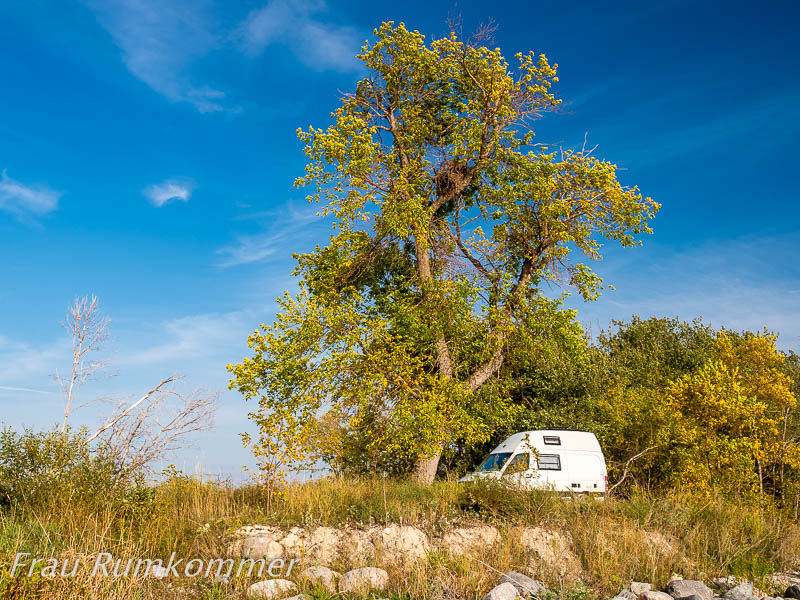 In Saskatchewan:
In Alberta: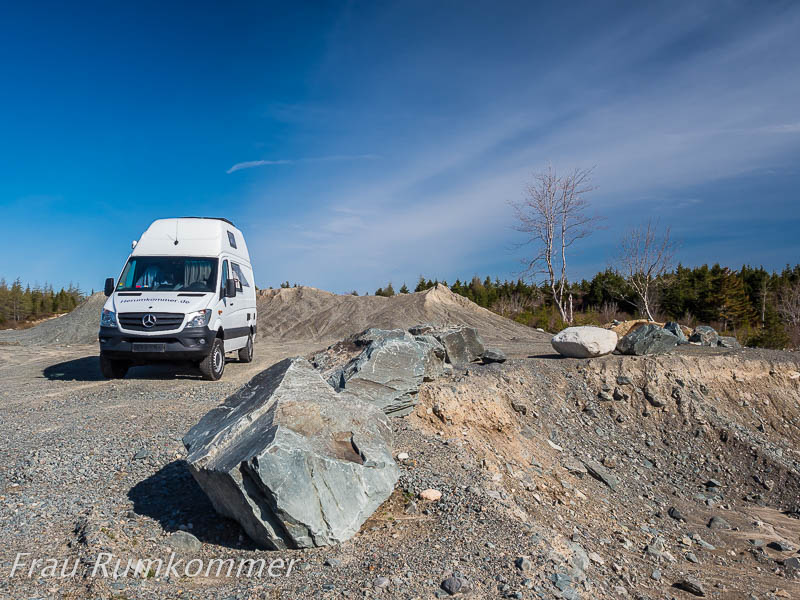 In British Columbia:
In den Northwest Territories: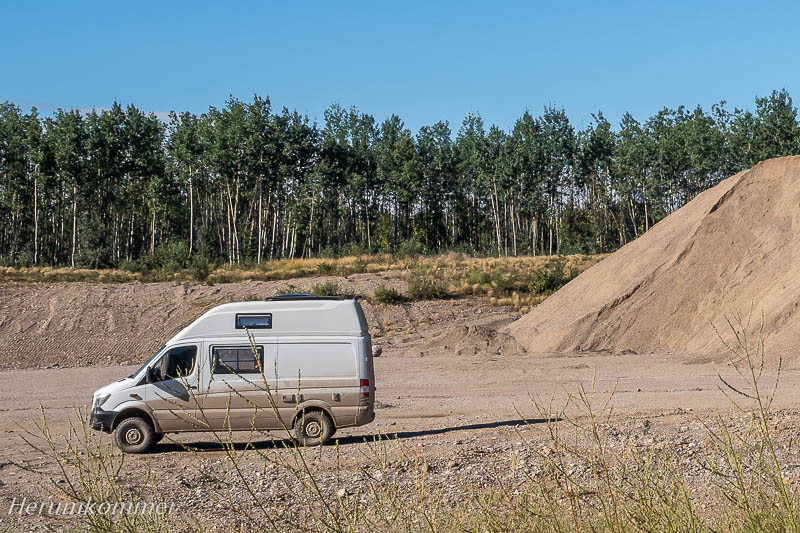 Unsere emotionalsten Erlebnisse waren:
Damit ist der Bericht von unserer sechsmonatigen Kanada-Rundreise abgeschlossen.
Unsere besten Fotos aus Kanada präsentieren wir auf unseren persönlichen Foto-Internetseiten krim-gruettner.de und reinhardprinzmeier.de. Der Herumkommer hat die Leuchtturm-Sammlung auf seiner Internetseite um fast 150 Fotos von kanadischen Leuchttürmen erweitert.